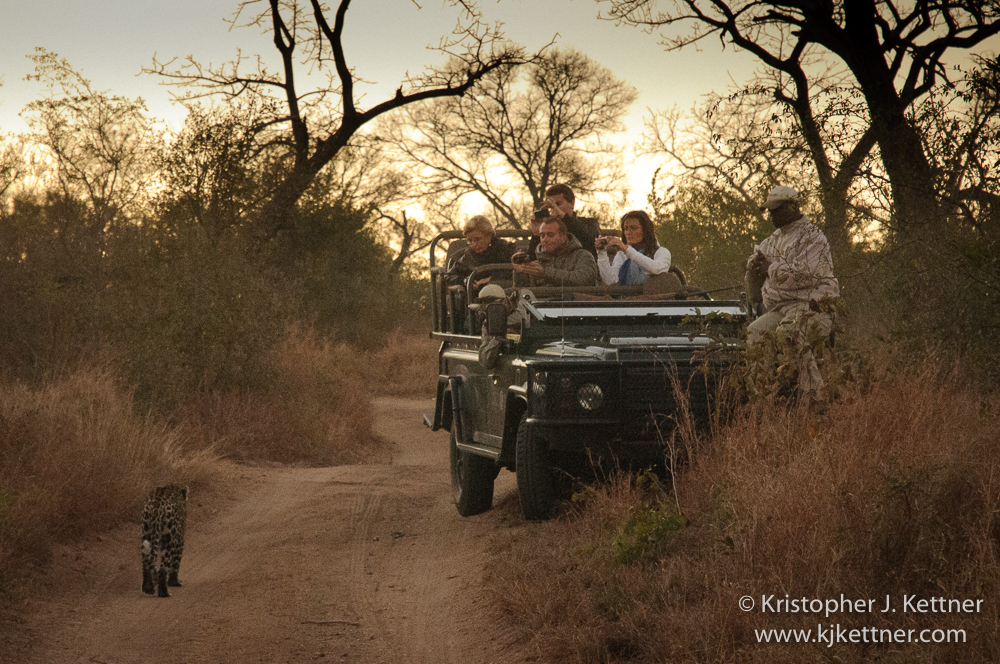 My wife and I loved South Africa and have been meaning to go back ever since. (Unfortunately there are a few other countries we haven't been to that we'd like to explore before we start repeating places.)
Overall, we didn't care for Johannesburg much. We met a couple on our safari and they were from "Jo-berg." They told us no one ever drives with their car windows down as people will just reach through your windows to grab stuff (or worse). We stayed at a B&B and were about to leave for dinner when the proprietor stopped us and told us to take only what is absolutely necessary and leave everything else behind and walk only down the middle of the street (it was a quiet neighborhood). She said go directly to and from dinner and do not wander around. While I'm sure parts of the city are lovely, we didn't get much of a good impression as even the locals had a "this place is awful but it's what we call home" attitude. That being said, it is a HUGE city and fascinating to see none-the-less.
Cape Town, on the other hand, we loved. It was friendly. It had great restaurants. It had beautiful scenery. It was fantastic.
Table Mountain is where everyone takes a gondola up to the top and can see to the edges of the earth. While we were there it was closed for renovations so I cannot attest to whether it's worth it or not.
The V&A Waterfront is where a lot of the restaurants are. We enjoyed strolling around taking in everything from fancy restaurants to street musicians and the general "harbor vibe" the entire area had. A regret is we waited until our last night to go down to see it and we certainly wish we would have discovered it sooner.
I can't remember where exactly, but someplace in downtown Cape Town my wife and I threw down some beers one night. We generally try to do this one night while on vacation wherever we are. Whether we chug rum swizzles in Bermuda, caipirinhas in Brazil or only God knows what that was in Panama, we try to take in a hearty slice of the local night life. Whatever region it was, it had a number of bars within a couple of blocks. Everyone was out. Everyone was having a good time. Whatever bar we were at had a cover band trying their best and an enormous selection of cider beers. At the end of the night (after crushing some late-night food) we flagged down a taxi and headed back to where we were staying. While all taxis are metered, few meters are regulated; ask your driver ahead of time how much it will take to get you back to your hotel and base part of your decision to enter the car based on that.
We stayed at Atlantic View while in Cape Town and it was up in the hills towards Table Mountain. Below us, near the waterfront, was a lesser-known restaurant district (Camps Bay, I think). Most restaurants faced the water and we had our pick of places to dine while we watched the sun set over the ocean. My wife and I were just reminiscing about this trip and we truly enjoyed strolling along picking out a restaurant. Since it was their winter, there was a chilly breeze off the ocean, but nothing a fleece couldn't fix.
Atlantic View, as I'm sure most places do, offer up a host of tourist options. Two we chose were visiting Cheetah Outreach and Wildlife Trust, where one of the perks is getting to pet a cheetah. It's pretty quick and simple but also damn cool. We were the first to arrive so we got our tickets and were then the first to be allowed in to do some giant cat petting. Everyone arriving after us had to sit and watch us. It was nice to be first for a couple of reasons. One is that it was slightly "more special" because we were the first of the day. Being the 25th person to do such a thing wouldn't have been so cool. The second reason it was cool is we were in, out and on our way to the next thing. We didn't have to stand in line for a half-an-hour while fifteen people in front of us all had a couple of minutes each to pet a cheetah. I could see waiting around watching others pet the cheetah getting old quickly.
The second thing we did was the obligatory wine tour. We visited two or three vineyards and each rolled out the red carpet for us. (It may have been a honeymoon thing or it may have been standard operating procedure.) I'm sure you've done a wine tasting before (or at least something similar), but what I can most certainly advise is to be cautious when ordering delicious, delicious wine to send home. Make sure the vineyard has a distributer in your home country. If they don't you'll have to pay all sorts of taxes and tariffs, and you'll have to find someone to be a licensed importer for you. Everyone I called in Chicago only wanted to deal with me if was importing 6,000 cases of wine, not six bottles. Of the two vineyards we ordered from, one had a US distributer and the other didn't. The vineyard who didn't was kind enough to refund our credit card when we told them it wasn't working out for us.
If time permits, I strongly, strongly recommend a safari while in South Africa. The self-driving tour through Kruger National Park can work out in a pinch, but it is so much better if you can go enjoy a private game reserve. Two nights/three days would be a minimum. We went with Sabi Sabi Private Game Reserve and their property butts up against Kruger National Park. (Well, sort of. Their property sits along the Sand River and directly across is Kruger.) Kruger is a five-hour drive on a national highway from Johannesburg. Our game reserve had its own private air strip and flights leave daily from the Jo-berg airport. It's a twelve-passenger plane and can get you there in about an hour. The plane stops at a few other game reserves and a highlight, for me at least, is one of the airstrips was gravel. Taking off and landing on rocks makes me appreciate the fancy concrete runways so much more. Safaris vary in price, quality and, experience. The car ride through Kruger will probably offer you a glimpse of animals in "the wild", but a private game reserve is a far better experience. (Obviously you get what you pay for. Sabi Sabi isn't cheap, but I cannot recommend it enough.)
We went to South Africa in early-August, which is their winter. It's the best time to go on a safari because the grass isn't as long and there are less watering holes so the animals all congregate at the same few. Dress in layers because, near Kruger, the temperature was 0F at sunrise but 70F by mid-day. Near the ocean there is much more of a narrow range of temperatures so a long-sleeved shirt was fine during the day and a fleece worked at night. Everyone we encountered spoke English (although some with a heavy accent) so language wasn't an issue for us.
While we were in the region we also explored Namibia, which is the least populated country in the world. If you have time, I'd say one reason to go is to see the stars. We drove to Sossusvlei and spent a couple of nights at the Sossus Dune Lodge. Because the desert is so dry and Sossusvlei is so remote, there was no light pollution. At all. The stars were amazing. While in southern Africa, if you've got the time, I'd recommend exploring the option of visiting Namibia, and specifically the Sossusvlei region. The adventure to and from was almost as good as sitting under the stars in the middle of the pitch-black desert. (You can read more at my page with Namibia Travel Tips.)
We truly loved our South African experience from the uber-populated Johannesburg to sitting by ourselves watching the sun set behind the sand dunes in Namibia, the world's least populated country. No matter when you go, you'll have a wonderful, wonderful time, whether you follow in our exact footsteps or create your own.
And send home postcards. Everybody loves getting postcards.
0811. (3822) http://www.kjkettner.com/?p=6735