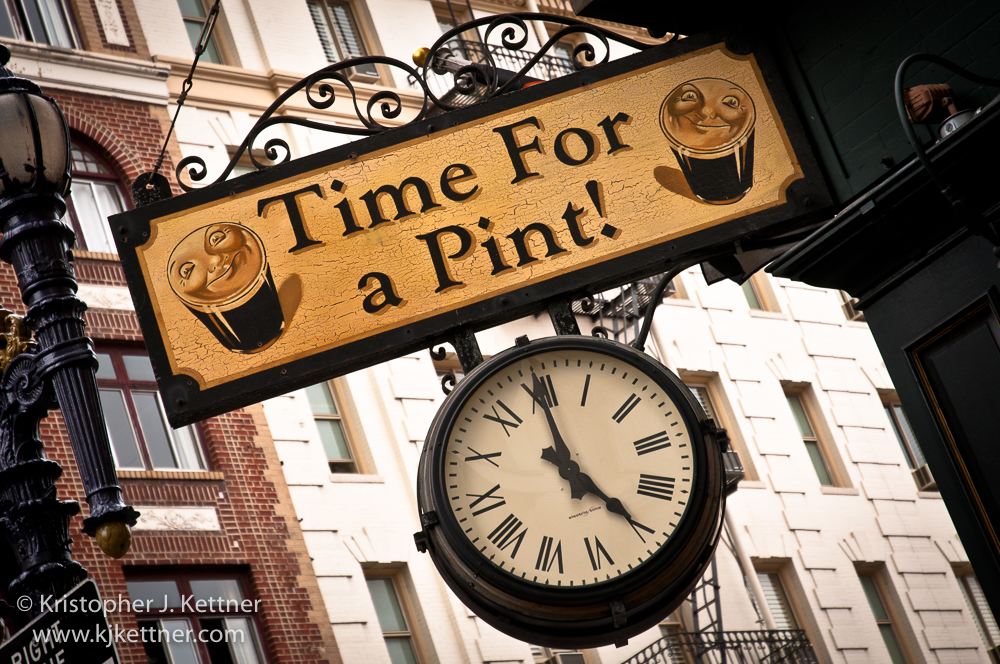 The following are a variety of rules I try to stick to when I'm drinking. Most of them have come from conversations and experiences with friends, some from chatting with servers, others from signs posted in bars.
If you have to work in the morning, never go drinking with people who don't.
Shots are for beginning-of-the-evening enjoyment only and serve with appetizers, but not as a nightcap. Any shot provided after the third round should be ignored.
Always toast before shots. Whoever purchased said round of shots gets first dibs on the toast.
Tip early, tip often.
Beer is your friend. Stick with beer and you'll be cool. A little wine is acceptable too; or perhaps a cocktail or two. But not beer, wine and cocktails. No more than two types of drink should be consumed in an evening.
Find out your server's name. Check their nametag or better yet, ask. Also, treat them with respect. Aside from being a common courtesy, this will pay off the longer you're at the bar.
When the bartender is slammed, the more complex your drink, the more they will hate you. Limit orders to beer, straight shots and two-part cocktails.
Get the bartender's attention with eye contact. NEVER yell out to them.
Use your head. If you've been drinking beer all night and a scotch on the rocks sounds good, keep in mind that your numb tastebuds have their gears set to "beer pace." Beer is your friend.
Don't drink any cocktail prepared by an amateur bartender. This is about the most important rule, especially if it's a drink they "made up in college." If Kool-Aid is an ingredient: WARNING.
If you're pouring, measure. I cannot stress this enough. Always put the same amount in your cocktails. If you like them strong, fine. Pour a double. But be consistent and use a shotglass.
Be cautious of how you plug the jukebox. We all love Guns-N-Roses, but not their entire anthology back-to-back. Remember you're playing music for everybody — not just you.
If it looks like a happy hour is gonna slip into a bar night, EAT. And eat well. The low-fat side caesar is no match for those six Screaming Purple Gut-Reamers. They make fried cheese-sticks for a reason.
With *very* few exceptions among the scotches and elsewhere, there is no liquor over 80 proof that is worth dealing with. 100-proof does not equal "fun."
Never call in sick to work because you have a hangover. You got yourself into this one, so live with it.  This is especially true if it was co-workers you got hammered with.
That reminds me:  Go to the bar with your co-workers. Even if you don't like to drink. For lots of people, the conversation takes a very different turn as soon as the saloon doors swing open. And there's no better respect a boss can get than that which derives from an atonal rendition of "Mack the Knife" at Karaoke Hut. Have a Coke.
Never turn down a drink on the house.
Find a place you like and become a regular. Not to the point of being a lush, but to the point of the bartenders and wait staff knowing you by name.
If at all possible, avoid drinking beer out of a plastic cup.
If there's a DJ, never say "I'll give you $5 if  you play…".  Tip up front or just don't bring it up. He won't believe you. The same goes with servers; never promise a tip "…if…" they do something. Pay up, THEN ask. Again again, tip your servers early and often.
If someone in your group buys a round of drinks, buy a reciprocal round or pay the tip (or at least offer).
If your drinking nights usually end with kisses on the cheek and "Have a great weekend, everybody," you're doing it right.  If your drinking nights usually end with split lips and "You have the right to remain silent," you're doing it wrong.
(0453) 0911.