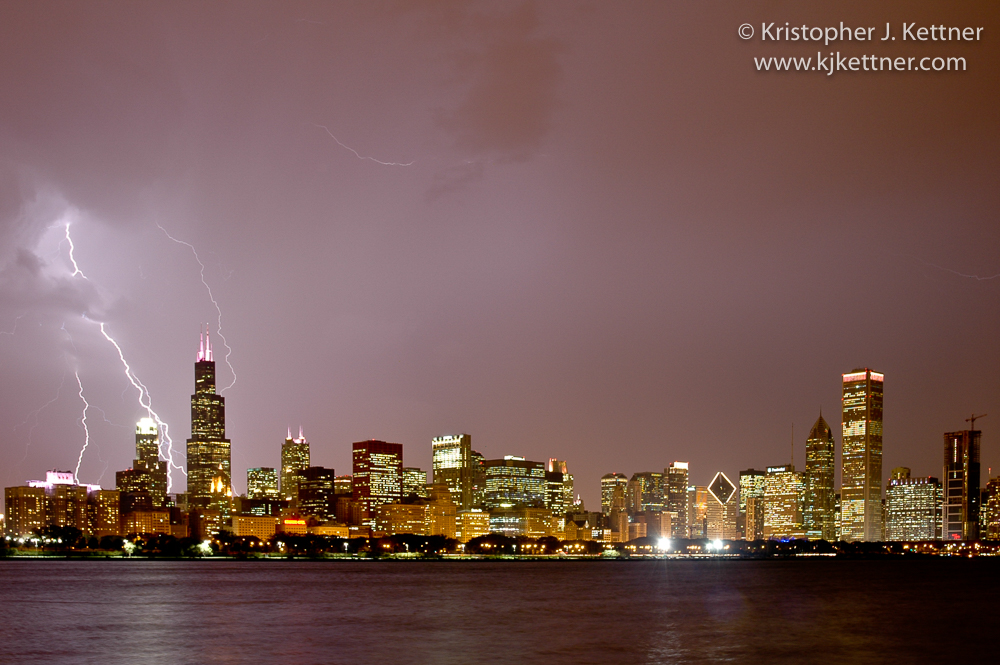 Gentlemen: Good things come from meeting your wife for lunch.
A few years back I was going to meet my (then-girlfriend-now-)wife for lunch. Her lunch break fell at a strange hour and later in the evening I was heading to a bar to see a friend's band play at a bar. Before leaving the house, I realized I wouldn't have enough time in between to go home, but I'd have too much time to go directly to the bar. So I threw my camera bag in the car and figured I'd wander around to take some pictures in between.
Fortunately, as I headed out after lunch the skies darkened and the front edge of a storm rolled in. Not a drop of rain fell but the cloud-to-ground lightning was incredible. I sat for an hour taking picture back towards the Chicago skyline as lightning bolts lit up the night sky. For nearly an hour I sat by myself watching the fantastic display of colors.
Two other photographers eventually showed up. One came peddling up on his bicycle and he frantically set up just before another gentleman arrived with his camera already on a tripod. The two sat to my right clicking away for less than ten minutes before the rain began to fall.
My camera was covered with a waterproof rain bag, but the two other shooters weren't as fortunate. As the intensity of the rain falling grew harder and harder, they tried to protect their gear as best they could. I had already captured my favorite shot of the night (viewable in my portfolio) and made my way to the car.
I ended up getting to the bar a bit later than I originally wanted. My friend's band was still on stage, but the lightning was so good I couldn't pull myself away. (The rain certainly helped in my decision of when to leave.)
Sitting there by myself for so long, I really like knowing I was the only guy hanging out for so long. The other photographers who showed up, I'm sure, captured a few quality images, but I was happy to have spent so much time sitting along the water's edge watching the storm roll in. I was even happier to capture some quality images of the Chicago skyline along with some incredible bolts of lightning.
(1311) 1006.