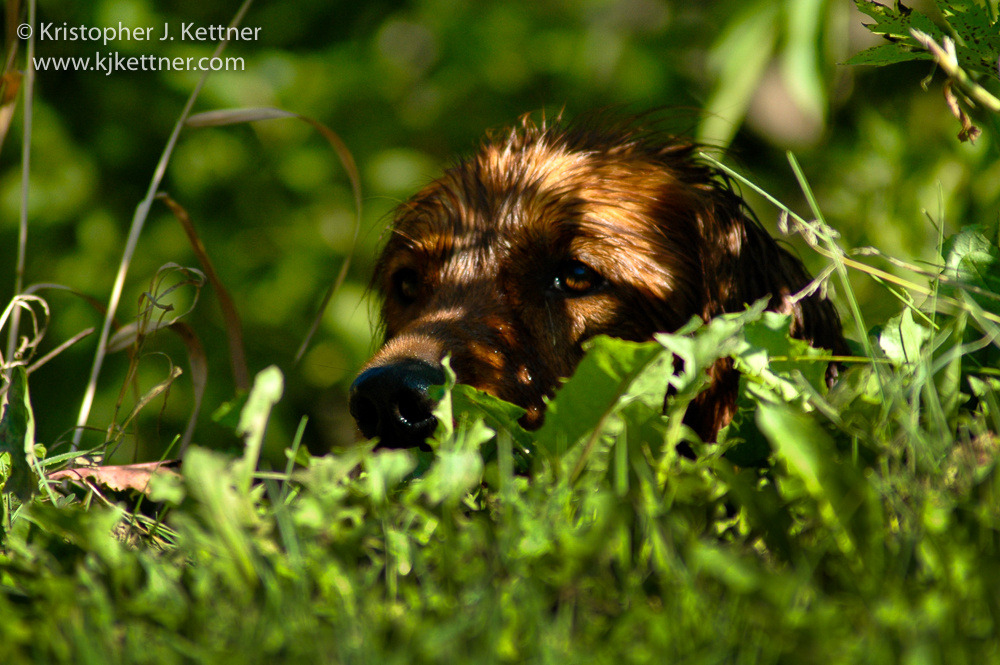 I like to tell the story of my first visit to my parent's farm after they picked up their new golden retriever, Casey.
Some time back I was scheduled to work a Chicago Bulls game on a Friday evening.  Additionally, I received a phone call to work a softball game in Iowa City the morning after said Bulls game and, mathematically, the hours in the car would make it a long drive with minimal sleep.  So, I turned the job down.
A day or two later, the phone rang again. "I really need you for softball," said my contact.  So I agreed.
As the weekend grew closer, I found myself dreading my decision more and more.  However, I had made my bed so I must sleep in it, so to speak.  On Friday night after the Bulls game (about 11PM), I jumped in the car and made the four-hour trip to Iowa City.  After arriving at the hotel in the wee hours of the morning, I jumped into bed for a quick two hour nap before heading to work.
Work was work, but after we were finished, severe thunderstorms were going to be rolling in, with a strong potential for tornadoes.  Not being a fan of tornadoes, I decided I'd rather spend my final night alive at my parent's house then die in a hotel room in Iowa City. Therefore, on two hours of sleep, I made the decision to head to my parent's farm, which was about three hours away.
I pulled into the driveway exhausted and was greeted by the smallest, most adorable puppy I'd ever laid eyes on.  His name was Casey and as he ran up to me with his high-pitched bark, his ears where so big that he proceeded to trip over them. Again and again, as a matter of fact.
Casey was so young that he didn't know how his body worked, and promptly tripped and stumbled over his own paws, or more adorably, his own ears.  We played in the yard for a long time, before I finally fell asleep for an extremely long time.  It happened to be Easter weekend, so while finishing touches were being made on a fantastic brunch, I played with the puppy some more.
That dog is one of the luckiest dogs in the world as he has nearly 50 acres to run around and call his own.  He'll chase birds, cars, thrown balls and sticks, or just fall asleep at your feet while you watch the sun set.
In the above picture, Casey buried himself down in the shrubs and waited for my dad to throw a stick into the river. Leaping off the banks of the river and swimming out to get sticks is one of Casey's favorite activities.
July 2007.  (0571)